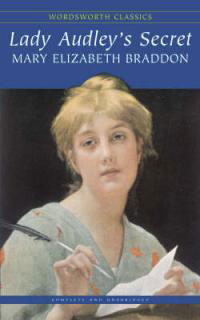 The flaxen-haired beauty of the childlike Lady Audley would suggest that she has no secrets. But M.E.Braddon's classic novel of sensation uncovers the truth about its heroine in a plot involving bigamy, arson and murder.

It challenges assumptions about the nature of femininity and investigates the narrow divide between sanity and insanity, using as its focus one of the most fascinating of all Victorian heroines. Combining elements of the detective novel, the psychological thriller and the romance of upper class life, Lady Audley's Secret was one of the most popular and successful novels of the nineteenth century and still exerts a powerful hold on readers.
Категории:
Характеристики
| | |
| --- | --- |
| Вес: (г) | 230 |
| Ширина упаковки: (мм) | 120 |
| Высота упаковки: (мм) | 25 |
| Глубина упаковки: (мм) | 200 |
| Серия: | Wordsworth Classics |
| Издательство: | Wordsworth Editions Limited |
| Мелованная бумага: | false |
| Цветные иллюстрации: | false |
| Размер упаковки (Длина х Ширина х Высота), см: | 12 x 20 x 2.5 |
| Название: | Lady Audley's Secret |
| Тип издания: | Отдельное издание |
| Тип книги: | Книга на иностранном языке |
| Тип обложки: | Мягкая обложка |
| Тип носителя: | Печатная книга |
| Эпоха публикации: | Современные издания |
| Размеры: | 20.000/12.000/2.500 |
| Вес: | 0.230 |
Другие книги схожей тематики:
Mary Elizabeth Braddon
Mary Elizabeth Braddon (* 4. Oktober 1837 in London; † 4. Februar 1915 in Richmond upon Thames) war eine englische Schriftstellerin.
Leben
Mary Elizabeth Braddons Eltern wurden 1840 geschieden, als sie drei Jahre alt war. Nachdem sie Privatunterricht erhalten hatte, war sie drei Jahre als Schauspielerin tätig, um ihre Mutter Fanny unterstützen zu können. Als sie 10 Jahre alt war, wanderte ihr Bruder Edward nach Indien und später nach Australien aus. 1894 wurde er Premier von Tasmanien.
1860 lernte sie den Verleger John Maxwell kennen, der mit einer geisteskranken Frau verheiratet war. Mary Elizabeth Braddon sorgte für deren fünf Kinder wie eine Mutter. Mit Maxwell hatte sie sechs Kinder, darunter den späteren Schriftsteller William Babington Maxwell (1866–1938). 1874, nach dem Tod von Mrs. Maxwell, konnte Mary Elizabeth Braddon den Verleger auch offiziell heiraten. Mary Elizabeth Braddon war eine überaus fruchtbare Schriftstellerin. Nach ihrem Tod wurde sie auf dem Friedhof von Richmond beigesetzt.
Werke
Mary Elizabeth Braddon war eine der populärsten Schriftstellerinnen des viktorianischen England. Sie war das, was man heute eine Bestsellerautorin nennt. Ihre Themen waren vorwiegend Kriminal- und Gespenstergeschichten, auch Gesellschafts- und Abenteuererzählungen entstammten ihrer Feder. Ihre populären Geschichten, deren Sensationseffekte im Rahmen von gut durchdachten Handlungen präsentiert wurden, nötigten auch Schriftstellerkollegen wie William Makepeace Thackeray oder George Bernard Shaw Respekt ab. Ihrem enormen Erfolg zum Trotz ist sie heute nahezu vergessen. Manche ihrer Gespenstergeschichten finden sich aber noch in einschlägigen Anthologien.
Romane und Erzählungen
The Octoroon (1861)
The Black Band (1861)
Lady Audley's Secret (1862); dt. Lady Audleys Geheimnis, 1863; Dramatisierungen: W. E. Suter, 1863; C. H. Hazlewood, 1877; Verfilmungen: USA 1912; USA 1915 (Regie M. Farrum)
Aurora Floyd (1863)
Eleanor's Victory (1863)
Henry Dunbar: the Story of an Outcast (1864)
Circe (1867)
Dead-Sea Fruit (1868)
Fenton's Quest (1871)
At Chrighton Abbey (1871), dt. Chrighton Abbey, 1987
To the Bitter End (1872)
Publicans and Sinners (1873)
Lost For Love (1874)
Hostages to Fortune (1875)
An Open Verdict (1878)
The Cloven Foot (1879)
Vixen (1879)
Asphodel (1881)
Phantom Fortune (1883)
Ishmael. A Novel (1884)
Wyllard's Weird (1885)
Cut by the County (1887)
The Fatal Three (1888)
One Life, One Love (1890)
The World, the Flesh and the Devil (1891)
The Venetians (1892)
The Christmas Hirelings (1894)
Sons of Fire (1895)
London Pride (1896)
Rough Justice (1898)
His Darling Sin (1899)
The Infidel (1900)
Dead Love Has Chains (1907)
During Her Majesty's Pleasure (1908)
Theaterstück
Literatur
Weblinks
Источник: Mary Elizabeth Braddon
Look at other dictionaries: