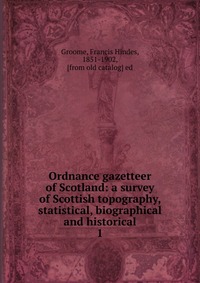 Ordnance gazetteer of Scotland. A survey of Scottish topography, statistical, biographical and historical. Воспроизведено в оригинальной авторской орфографии издания 1886 года (издательство Edinburgh, T. C. Jack; [etc., etc.] ).
Категории:
Francis Hindes Groome
Francis Hindes Groome (1851, Monkton Soham, Suffolk - 1902), miscellaneous writer, son of a clergyman, wrote for various encyclopaedias, etc. He was a student of the Gypsies and their language, and published "In Gypsy Tents" (1880), "Gypsy Folk Tales" (1899), and an editor of Borrow's "Lavengro" (1900). Other works were "A Short Border History" (1887), "Kriegspiel" (1896), a novel, and"Two Suffolk Friends" (his father and Edward Fitzgerald).
He worked with David MacRitchie as editor of the quarterly journal of the Gypsy Lore Society until its dormancy in 1892.
F.H. Groome is perhaps best remembered for his 6-volume "Ordnance Gazetteer of Scotland" which appears in full as part of the [http://www.geo.ed.ac.uk/scotgaz/ The Gazetteer for Scotland] , produced by the University of Edinburgh, Scotland, and is directly searchable within [http://www.visionofbritain.org.uk/descriptions A Vision of Britain through Time] .
External links
* [http://www.geo.ed.ac.uk/scotgaz/people/famousfirst1334.html Biography] at the Gazetteer for Scotland
*gutenberg author | id=Francis_Hindes_Groome | name=Francis Hindes Groome
Источник: Francis Hindes Groome
Look at other dictionaries: